Supplier Showcase Opportunities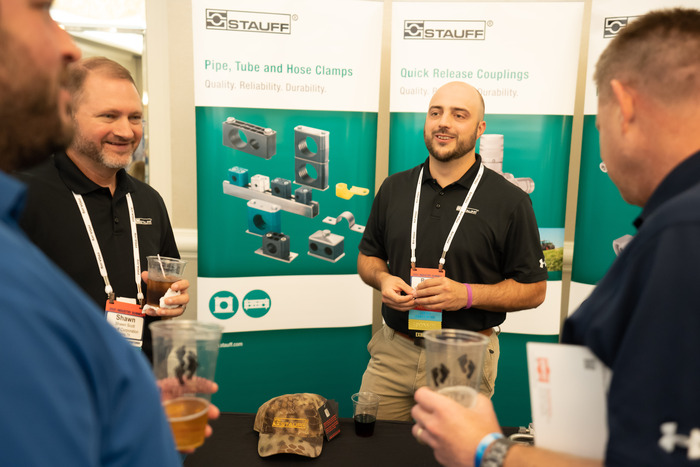 With the purchase of your exhibit table purchase will be 10 raffle tickets to be handed out during the Supplier Showcase to customers who visit your table. Customers are entered into a drawing to win a $100 gift card. Additional tickets are available for purchase.
Exhibit Table - $900: Includes one 6-foot skirted table and 10 raffle tickets.
Value Add-On: Exhibit Commercial - $200: Give attendees a sneak peek by adding a commercial to your exhibit table purchase. Your one-minute commercial promoting your company and products will be featured on the Industry Summit webpage.
Raffle Ticket 10 Pack - $25: Purchase an additional packet of tickets to give visitors to your table. Includes 10 tickets. Winners will receive a $100 gift card (one winner from each association).
Exhibit cancellation deadline for a full refund: August 18, 2023
No refunds after: August 18, 2023
Click the link below for your association to reserve your space. Exhibits and sponsorships can be reserved on the same form
FPDA Exhibitor Registration Form
Exhibitor Shipping Instructions
You will be provided with a 6'x30" fully skirted table with two chairs and a tent card identification sign. Exhibitors may set up between 7:30 AM and 9:00 AM on Monday, October 2nd. Exhibitors will be allowed back in the room at 11:45 AM. Exhibits must be broken down and cleared from Grand Ballroom A by 9:00 PM.
Materials may be shipped for arrival (3) three days in advance of the conference and the Hotel will store the materials in a secure location pending the Group's arrival. Each item must be properly packed and marked with the Group name and contact, date of arrival, and name of the Hotel contact.
Storage over (3) days is $25.00 per item, per day.
Pallet Storage is $50.00 per pallet, per day.
If delivery is required within the hotel, an additional $100.00 per pallet will apply.
Exhibitor is responsible for removal of all pallets and shipping materials. If pallets and shipping materials are not removed, removal fee of $10 per pallet will apply and will be added to the exhibitor credit card.
Package Labels:
Loews Ventana Canyon Resort
7000 North Resort Drive
Tucson, Arizona 85750
Attn: Guest First Name, Last Name
Industry Summit / Tara Oursler CSM
It is very important that the last line is included on the label. Please send your tracking numbers to Tara Oursler at Tara.Oursler@loewshotels.com.
Delivery Charges:
| | |
| --- | --- |
| Incoming Package Handling | Price |
| Carrier Envelope | $2.00 |
| Padded Pak | $5.00 |
| 1-10 lbs. | $5.00 |
| 11-20 lbs. | $10.00 |
| 21-40 lbs. | $20.00 |
| 41-60 lbs. | $40.00 |
| 61+ lbs. | $75.00 |
| Pallets | $300.00 each |
| | |
| --- | --- |
| Outgoing Package Handling | Price |
| Carrier Envelope | $2.00 |
| All Boxes | $10.00 |
| Pallets | $300.00 |
Exhibitor Audiovisual
Encore is the preferred audiovisual provider. If you need assistance completing your order or if you have any questions, please contact Tracey Eddy at tracey.eddy@encoreglobal.com
Be Sure to Review:
Click Here for Exhibitor Rules and Regulations
Exhibit Showcase Schedule
Monday, October 2, 2023
7:30 AM–9:00 AM: Supplier Showcase Setup
12:00 PM–2:00 PM: Lunch & Supplier Showcase
6:30 PM-9:00 PM: Supplier Showcase Move Out
Sponsors
Key Dates